Artisan Bread Bakery Thrives at Bon Appétit at Oracle
By Bon Appétit at Oracle staff
The Friday bread display and menu at the bakery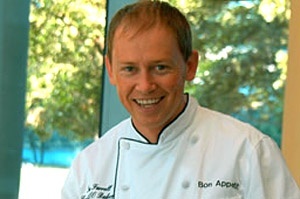 Executive Pastry Chef Ian Farrell (
right
) was first bitten by the sourdough bug about five years ago, when he grew a wild yeast starter from the skins of organic grapes. Now he lives his passion for hand-crafted wild yeast breads daily at
Oracle
in Redwood Shores, CA. Almost all the breads, sourdough or otherwise, for every café on this campus are made from scratch daily at the Oracle Bakery.
Production starts at 4 a.m. with hamburger and hot dog buns and rolls. Then comes the pizza dough, and the focaccia and ciabatta, both of which derive their complex flavor from Ian's carefully nourished sourdough starter.  
On Fridays, Ian bakes and sells loaves of artisan bread for customers to take home for the weekend. The program is so popular, guests have to reserve their breads by email in order to get what they want.
Each Thursday, he sends out an email with the week's selections, which can include assorted braided challah, caramelized-onion-walnut bread, bacon sage loaves, olive rosemary bread, French country bread, whole-wheat pain du sol, Irish soda bread, ciabatta, and assorted slabs of focaccia.
Ian is now experimenting with artisan wheat varieties that are grown and milled nearby. One of his favorites is a nutty, flavorful wheat flour called Sonora wheat. Popular in California in the early 19th century, commercial production had all but died out in the 20th century, but today a few small California farms such as Full Belly Farms in the Capay Valley are growing and selling it locally.
Hopefully, more small farms will begin growing historic varieties of wheat. According to Monica Spiller of the Whole Grain Connection, a California nonprofit, older varieties of wheat can be advantageous for small, organic farms. For example, the Sonora is naturally tall, and thus able to shade out weeds, reducing the need for both herbicides and labor intensive hand weeding.
Ian's enjoying discovering and working with exciting new varieties of local wheat — and his customers are enjoying eating up the results.