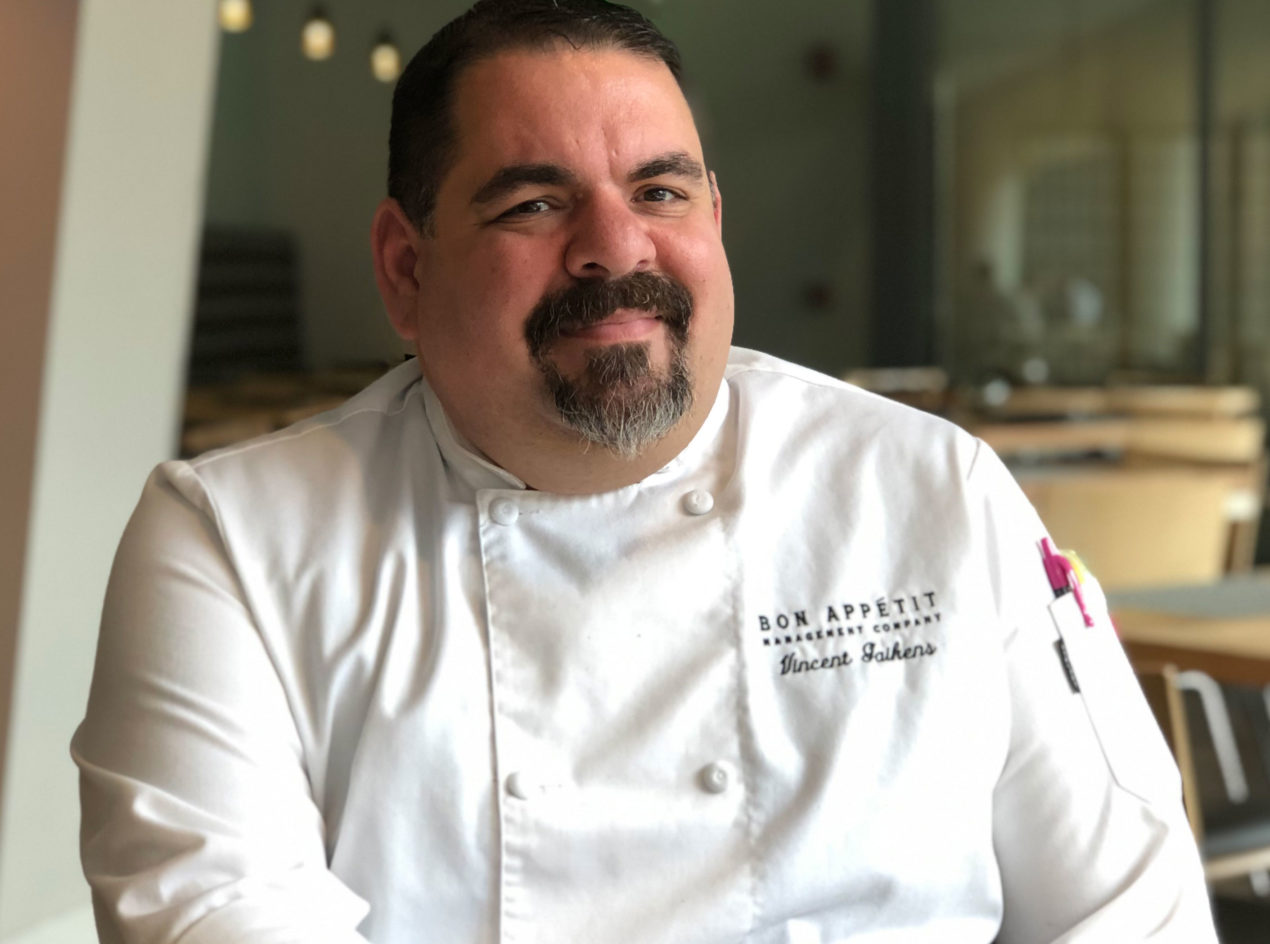 Vincent Gaikens
Campus Executive Chef, Case Western Reserve University
Vincent Gaikens admits that he periodically re-reads the cover letter he wrote when first applying for a job with Bon Appétit back in 2014, "to help keep me centered and to remind myself why I'm here."
In it, he wrote about how the food service industry "defines success on the premise of profitability… through great market awareness and consistent repeatable business models based on standardization. While this is a great proven concept, and I have enjoyed a successful career based on this corporate structure, I have always aspired to work for an organization that fosters individual creativity and that remains passionate about food."
After starting as executive chef at Leutner Commons at Case Western, Vincent is now campus executive chef.
So did you find what you were looking for in Bon Appétit?
Yes — I longed for the real boots-on-the-ground dedication to local farming, and I found that in Bon Appétit. This was the driving force behind my leaving my previous employer, where "buying local" meant asking our produce distributor to bring us some Ohio produce. Each day, I value the access we have, as Bon Appétit chefs, to such an abundance of beautiful products that are literally grown down the street. In the past five years, I have encountered some of the most hardworking, honest, and true salt-of-the-earth farmers, who I am proud to call my friends.
The first week I worked for Bon Appétit, I met one of our local ranchers when he came to deliver some meat. He had a slicer in the back of his truck. "That's a really nice slicer," I said. He told me he'd taken it as hostage from one of his restaurant clients who hadn't paid him. "Now that is a bad-@ss real farmer," I remember thinking. I was so happy.
I can recount many stories that have truly changed me, but nothing really captures the experience of shaking the hand of the farmer who cared for the product they are proudly selling to you. The look in their eye and the firmness of the hand you are holding at that moment resonates and stirs me in a way I cannot fully explain.  I continue to be thankful to be part of a company that is driven by this same passion.
What inspired you to start cooking? 
I started as a 14-year-old dishwasher in a family restaurant in Madison, OH. I loved the crazy atmosphere, and I was accepted immediately, as I knew how to work hard at a young age.  Thomas Velkos was part owner of the restaurant, and he took me under his wing.  By 16 I was running his line and working at three of his restaurants. Tom and I have stayed close over the years and I will always consider him the greatest chef I've ever worked for and my true inspiration… although he would never call himself a chef!
How did you get from there to executive chef?
I earned my Culinary Arts degree from Johnson and Wales in Charleston, SC, then my bachelor's in foodservice management, and then I was awarded a full scholarship to continue on for my masters in applied teaching. After graduating in 1998, I returned to Ohio. My first job was actually a front-of-the-house position at Case Western with one of the university's previous food service providers! Not long after I was offered an executive chef position at the Cleveland Metroparks Zoo, where I worked for 11 years cooking for events ranging from a private wedding proposal for two on the Zebra Deck to our annual zero waste Twilight at the Zoo for over 7,000 people.
What excites you about coming to work each day at Case Western?
This is a very complex account. I have always felt a certain awe or reverence for this campus. Our guests range from students from all over the world, faculty, medical professionals, lawyers, engineers, and higher education administrators. All of these people represent opportunities to make personal connections and impactful experiences. There really is nothing more personal than the simple act of breaking bread with others. That is what we do each day. We provide a conduit for people to come together and enjoy a thoughtfully prepared meal and a sense of community.